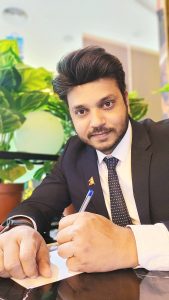 GREETINGS OF THE DAY
A professional Multi Service Company dedicated to its principle "First Impression Is the Last Impression"
We are from Sky Star Recruitment Pvt. Ltd (License No: 1078/073/074) one of the leading Recruitment & Manpower Consulting Company based in Nepal (Kathmandu). Sky Star Recruitment maintains highly trained staffs with highly educated & experience and provides a best class service to our customer. Our Vision of the future is firmly grounded in our every day practices. We make every effort to constantly fine-tune every aspects of our service to provide the complete satisfaction to our client.We have a client base spreading across in UAE, QATAR, Saudi Arabia, Malaysia, providing manpower solution to industries in the field of
– Professional
– Skilled Technicians
– Semi Skilled
– Unskilled
Being a Manpower agency from Nepal, We undertake complete responsibility to recruit any category of personnel from Nepal. We are interest to join hand with your agency for supplying Nepalese workers as per the requirement.
If we got a chance from you to supply workers to your reputed company, we are sure to keep our promise to complete the job as per the given terms and conditions by you. It would be our convenience to get reply from you whatever you is interest with us or not.
​We assure that our best service and cooperation will be for you all the times.
With best regards,
Hassan Raza
Executive Director
Sky Star Recruitment Pvt. Ltd.
Email : raza@adepthunters.ae
Mobile : UAE +971542217447
Mobile : Nepal +9779801236583